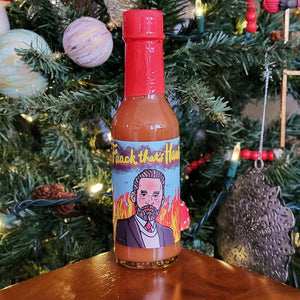 Peppers grown by 2acreNDbear...hot sauce made by Sarah and Griff of Imperio Salsa. Faack That's Hawt! Hot Sauce! is a gift made just for the YouTube Member Bobs! 
There are only 35 bottles available, and they are not for resale. In order to purchase one, you will need your Member Promo Code. 
This item will not make it in time for Christmas!! We are expecting to ship these right before Christmas. If you order one of these and have not claimed your Member Sticker Pack yet...I will add it to your order manually!
This hot sauce was a collaborative effort between Imperio Salsa Co, 2acreNDbear, and Megan / Mrs Jimbob. Please be sure to show your support, especially to Imperio Salsa!
www.imperiosalsa.com - you can order salsas, seasonings, hot sauces and more! This company is owned by our channel mod SpicySarah and her husband Griff! Use promo code SALSABOBS for 10% off your order!
BudBear printed the labels. If you need something printed, BudBear is your guy! You can contact him on Instagram @budbear7. He also has really neat wooden Beartaria signs available for $20. DM him for more information!