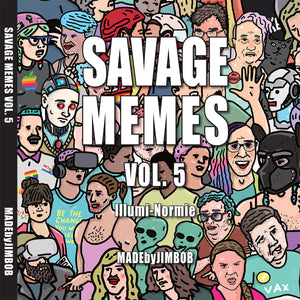 ***PRE-ORDER STICKER BONUS IS SOLD OUT!***
Buy 1 book, get a 2nd book for 25% off! Can mix and match books. Discount is automatically added. $100+ orders get free shipping as well!

Savage Memes Vol. 5 Book Details:

The final book in the Savage Memes series!!!
Includes banned comics that you can't find on social media
A physical book that can't be deleted

Focused on the issues surrounding the years 2022-2023
Hardcover art book, 7.5"x7.5"
100 pages of original memes
Autographed by Jimbob

Includes a MadeByJimbob sticker and thank you card
THIS IS A PRE-ORDER! ESTIMATED SHIP DATE IN NOVEMBER/DECEMBER!
We are printing 1000 books and that's it. Volume 1 and 2 are completely sold out, and we will not be printing more. We have limited stock of Volume 3 and Volume 4 available. So grab your copy of Volume 5! This will be the final book in the Savage Memes series!